Document management system creator expands its client base in the freight forwarding industry
Puchheim/Windhoek, 10 November 2017. On 27 October the go-ahead was given for a new era to begin at Transworld Cargo (Pty) Ltd. – document management solution lobodms entered production in a ceremonious atmosphere.
Background: Before the introduction of lobodms, Transworld Cargo (Pty) Ltd. only had paper filing. It was difficult to enable consistent client documentation across the four sites (Walvis Bay and Windhoek in Namibia, Johannesburg in South Africa, and Gaborone in Botswana.
With lobodms, all the data for a client, including complete documentation of the individual shipping orders, are accessible in a client file, and can be put together from different sources. The documents thus come from sources such as the interface to the CargoWise One freight forwarding software solution, mailing systems, and the local customs system. Moreover, thanks to lobodms, not only has
the ability to provide information been significantly improved, but the internal costs of filing and searching for documents have also been reduced.
AKQUINET was involved in this project to round out the overall Know-How by providing deep CargoWise One Knowledge and industry Know-How. To enable the data transfer from CargoWise One AKQUINET supported the fulfilment of technical requirements. After the technical foundation was laid to enable a trouble-free data transmission, AKQUINET provided intensive assistance during the testing phase to cover all relevant Business Cases within CargoWise One and to ensure an accurate operation. To achieve a high degree of automation, a concept for an automatic data transmission process within CargoWise One was developed and implemented. The close collaboration be-tween all parties involved in this project, made it possible to develop a connection between CargoWise One and lobodms to fulfil the requirements of Transworld Cargo for transmitting Documents with related operational Data into an external archiving system.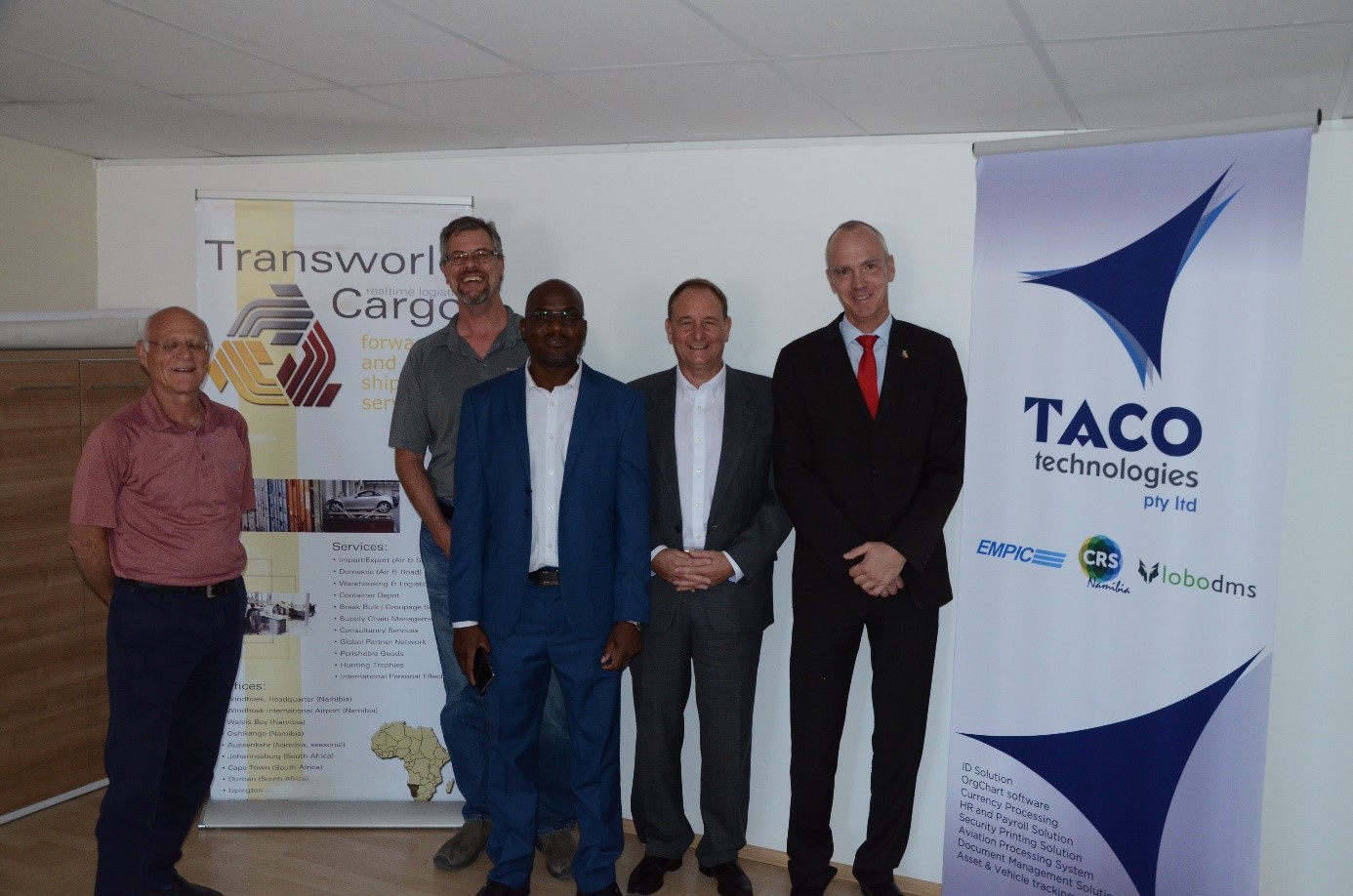 From left to right: Norbert Liebich, Director of Transworld Cargo (Pty) Ltd., Burkhard Grimm, TWC project manager, Immanuel Johannes from local lobo partner TACO Technologies (Pty) Ltd., Harald Klingelhöller, Managing Director of lobodms, and Ulrich Kinne from the German embassy in Windhoek
About Transworld Cargo (Pty) Ltd.
Transworld Cargo (Pty) Ltd. is a Namibian forwarding company, founded in 1986 and since then operating successfully in Namibia and Southern Africa, achieving steady and continuous growth.
With a complement of +100 staff members, Transworld Cargo offers the complete range of freight forwarding and shipping services for all modes of transport as well as fully integrated logistics solutions for all types of cargo.
Transworld Cargo (Pty) Ltd. operates internationally from its own offices in Namibia. As part of a worldwide network of agents and logistics providers, our offering is characterised by service excellence with a strong emphasis on cost-effectiveness, efficiency and reliability.
Transworld Cargo (Pty) Ltd. is based in Windhoek, Namibia, and has branches in Walvis Bay in Namibia, Johannesburg in South Africa, and Gaborone in Botswana.